Concerts 2020
Concerts presented by Albany Musicians' Association, Inc. (AFM Local 14) are free and open to the public.
Music Showcase 2020
March 15, 2020
1-4PM
New York State Museum
New York State Museum Cultural Education Center
222 Madison Avenue
Albany, NY 12230
***************************************************
Jazz Appreciation Month 2020
Albany Musicians' Association, Inc.
with the Music Performance Trust Fund 
proudly presents our celebration of the 
20th Annual Jazz Appreciation Month
created at the Smithsonian Institute in 2001
April 26, 2020
1-5PM
Colonie Elks Club, 11 Elks Lane,Latham, NY 12110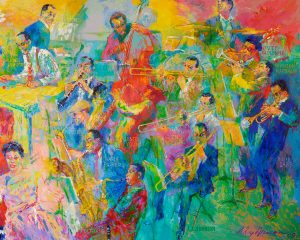 Jazz Appreciation Month| National Museum of American History
Jazz Appreciation Month (fondly known as "JAM") was created at the museum in 2002 to herald and celebrate the extraordinary heritage and history of jazz for the entire month of April.

"Big Band" by LeRoy Neiman (1921–2012)
JAM is intended to stimulate and encourage people of all ages to participate in jazz – to study the music, attend concerts, listen to jazz on radio and recordings, read books about jazz, and more.
Join us and celebrate Local 14's J.A.M. 2020 with jazz performances by AFM members at the Colonie Elks Lodge. There is ample parking at the Elks Lodge on 11 Elks Lane, Albany, NY 12110-0756. Lite fare and beverages are available for sale at the lodge.
LeRoy Neiman (1921 – 2012) was an American artist known for his brilliantly colored, expressionist paintings and screen prints of athletes, musicians and sporting events. Neiman had a great love for jazz and spent more than 50 years sketching and painting musicians in an attempt to portray how it felt to watch jazz performances as well as how the sounds and colors evoked emotions and movement. Completed in 2005, Neiman's painting, Big Band depicts performers he saw in concert from the 1950-80s. The musicians depicted in this section of the painting (from top to bottom) are Billie Holiday, Duke Ellington, Lionel Hampton, Louis Armstrong, and Ella Fitzgerald.